On Paper
Jared Yamanuha describes his obsessive, reductive process.
Interview by Naomi Taga || Image by John Hook
Jared Yamanuha is usually the guy with the tape recorder on the opposite side of this interview, churning our chatter into sentence gold on paper. But it was paper, specifically, that led Yamanuha to pick up a knife and carve his place in the art world.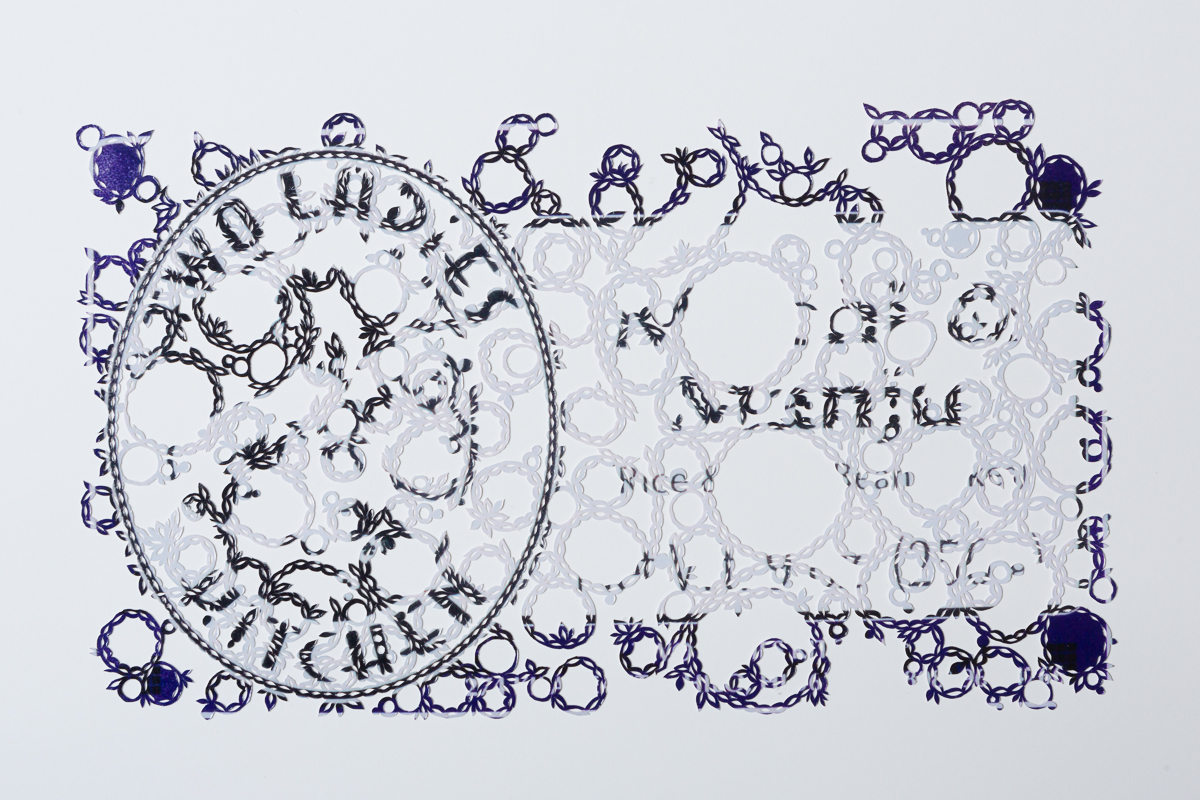 How did you become interested in making art?
I studied English literature at UH Manoa and wanted to be a writer. I wrote for Flux Hawaii and The Star Advertiser a few times within the past two to three years. To interview artists and get insight into how the art world works—it can be very doom and gloom—but through the writing, really, that's how I made a lot of connections.
How did you get into paper cutting?
I started taking photographs with a little point-and-shoot then would cut the photographs via Photoshop. I just thought about what the next step would be and picked up an X-Acto. The first piece I did was an image of Leonard's Bakery. It stemmed from there, and I decided to make that the focal point, which really allowed me to explore this cut-paper medium. It grew from having simple cutouts to these intricate flowers embedded in it that drew parallels about Hawai'i. But honestly, I noticed I started doing these really intricate cutouts when I quit smoking.
Have you ever thought about cutting with a laser printer?
The thing you get with the hand is the touch. If you make a mistake, it leads to something else. It allows you to do things that are unexpected and surprise yourself. Laser would take away the intimacy of it.
Would you call yourself obsessive?
I was recently part of a group show in San Francisco called Obsessive Reductive. It focused on process-based art and on intricate, obsessive objects, laboriously created by hand. It included a group of artists whose process is, primarily speaking, the removal of material to create a new image: Jill Sylvia removed sections of ledger paper to create a sculpture of the White House; Drew Daly hand-sanded a chair to create a ghostly skeletal piece; Cal Lane removed pieces of a shovel using a plasma cutter to create a feminine, ornate object. What does everyone have in common? Everything was done by hand, oftentimes with an emphasis on the amount of time spent on creating the work.
Is that what's hardest, finding enough time to create your work?
If I could really pursue the art thing I would. But right now, I work for the state out in Kapolei. But in the end, it's not your passion. I'm working and working and seeing where it goes, but you definitely have to branch out and explore. I don't want to be pigeonholed as "the paper cutter." Like, "This guy has issues" and "dude, are you on drugs?" I'm totally sober right now. These cuts are so tiny. I can't even be drunk to cut. I tried to, and it doesn't work. But you have to keep it moving because I'm so locked into one way of making work.
But your work in Food for Thought will differ from the work you had in omiyage, your solo show last year?
My work for Food for Thought will be based on Kristie's cakes. Kristie is making cakes designed to look like delicious food, some of our favorite things to eat: Spam, ramen, Hawaiian plate, burger and fries. My work will be dictated by the cakes she makes. For example, Kristie's Spam cake will be complimented by a work made using images of spam. This is a big departure for me. I'm so used to making work at the same slow speed, producing a whopping one piece per month, and choosing the form and content myself. Food for Thought is, in actuality, Kristie's show, and I'm simply producing visual accompaniments to her cakes. My work will undoubtedly be more experimental, more loose, more fun. If Omiyage was a lengthy, 26 course tasting menu at some Michelin-starred temple of haute cuisine, then Food for Thought will be a late night alcohol-induced food crawl studded with all things deep-fried and deeply-bad-for-you, an inebriated quest from one hole-in-the-wall to the next.